St. Michael the Archangel Catholic Youth Organization (CYO) exists to provide spiritual, academic, and athletic excellence while emphasizing faith in Jesus Christ and Catholic Christian values. Our CYO should encourage all adult members to live the Gospels and assist our youth in understanding and living the message of Jesus Christ.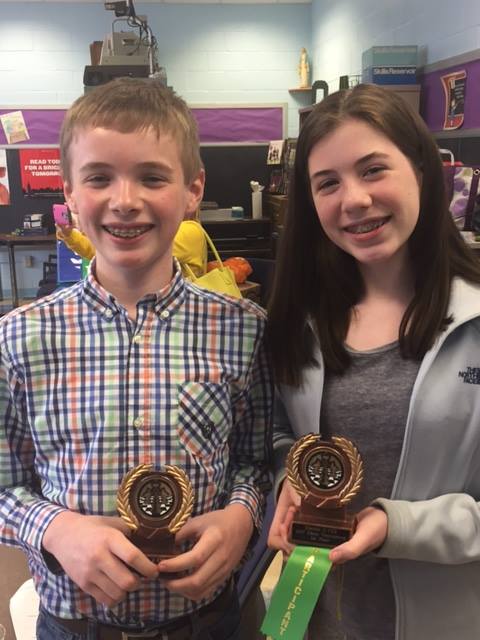 The objective of the Saint Michael's CYO is to promote youth activities in accordance with
Catholic teachings for the youth of the St Joseph's and Assumption Parish Community. This is
accomplished by:
1) Providing structure for athletic & academic competition
2) Establishing and monitoring standards for individual participants, coaches, volunteers and contest officials
3) Provide information and to facilitate communication among participating members
4) Establishing and monitoring standards for good sportsmanship and athletic competition
5) Establishing standards to manage the risk and to prevent the exploitation of those involved in sport activities
St. Michael's CYO endeavors to help young people be more Christ-like in the way they live.
St. Michael's programs focus on the total development of participants in order to influence the formation of Christian values.
CYO Registration
CYO registration for the 2023-24 school year is OPEN!!  If you are interested in signing up your child(ren) for CYO see the player and coaches link below. You will see that there is a registration link for players and a separate one for coaches.  The fall season includes our award winning Cross Country team (Kindergarten-8th grade) and Girls Volleyball (3rd Grade-8th Grade).  Rosters for Fall sports are due before school starts so please make sure to reach out/register for these programs in July! 

If you have any questions please reach out to Colleen Fitzpatrick at colfitzpat@gmail.com
CYO Theatre
CYO typically puts on a play in the spring. It is open to students in grades 5-8.
Spelling Bee
Students in grades 6-8 compete in the District 2 Competition in the fall with top spellers moving on to the Diocesan Competition in early spring.
CYO Mass at St. Joseph
The CYO Mass and Awards date TBA.
Academic Bowl
Advisor: Mrs. Regina Hartung
Open to students in grades 6-8. Practices for any interested students begin in mid-December and are usually held Wednesdays after school in the Colesville building. Our competition team is chosen during the Catholic School Week competition with the Diocesan Tournament held in the spring.
Religion Award
St. Michael CYO encourages all of our participants to complete the Allentown Diocesan Religion Award. The award requires students to complete on grade level appropriate assignment per month for the months of October through March (6 projects). The award is open to children in grades 3 through 8.
Completed projects are to be turned in to the Religion teacher or Prep teacher by April 15th and then will be collected by the Religion Award Coordinator. St. Michael's CYO issues a special award to each student completing the requirements for the award and the children are recognized at the end of year CYO mass.
Fall
Cross Country

 

– Open to all students grades K-8. Runners have an opportunity to enter in about 5-6 meets per season. Practices are at the discretion of the coach and information is sent to registered students in August. The season runs from August until early Octobers. Students in K-2 run .5 mile. Students in grades 3-4 run 1 mile. Students in grades 5-6 run 1.5 mile. And students in grades 7-8 run 2 miles.
Volleyball

 

– Open to girls in grades 5-8. St. Michaels usually has 5th and 6th grade JV teams and 7th and 8th grade varsity teams. Practices are at the discretion of the coaches and can start on August first. The season runs from the second weekend in September to late October. Depending upon interest and availability of coaches, St. Michael's also has a High School team.
Winter
Basketball – open to all students in grades 1 – High School. The season is the longest sports season offered by CYO and runs from late October until March with the exception of Diocesan and State playoffs.
Grades 1&2 have a Saturday morning clinic that consists of assorted skill stations coached by parents of the children in those grades. Grade 1, 8-9am and Grade 2, 9-10am in the Hanlon Center during January and February.
Grades 3&4 – from this grade forward the teams are divided into girls and boys teams. Practices are usually in the Coopersburg gym according to the coach's schedule. St. Michaels plays others teams in the District 2 league.
Grades 5&6 are the JV teams. Tryouts are held to divide the teams into A(white) and B(blue) leagues. The A league is defined as "competitive" with the top 6 teams entering the playoffs at the end of the season. A District 2 champion is chosen. The B leagues is defined as "instructional", no playoffs are allowed but a season end tournament may be played. A parish may enter multiple teams in either league.
Grades 7&8 make up the Varsity program and are subject to tryouts for the A and B leagues. The league set up is the same as the JV level. The season must conclude by the third week of March, but Diocesan and State Tournaments may continue through March.
High School – CYO provides the opportunity for high school boys and girls to continue with the sport of basketball by offering a competitive league that runs from January-March.
Spring
BASEBALL

 

– open to boys in grades 7-8 and very accomplished 6th graders. The league is very competitive and the boys play on a bigger infield. The season begins in the third week of March and concludes by the end of May. Practices are at the discretion of the coach.
CO-ED VOLLEYBALL

 

– open to girls and boys in grades 5-8. This season is short and sweet. It runs for about 4 weeks from the end of March. It runs right between the end of basketball and the beginning of baseball. The league is fun as well as instructional. Practices are at the discretion of the coaches.
TRACK & FIELD: Open to all students grades 3-8. The season runs from March until early June with 6-8 meets held on Sunday's during that time. Events include: 1600M, 800M, 400M, 100M, 4×100 & 4×200 running events along with Javelin, Discus, Shotput throwing events and Long & High jump events. Students in grades 3-5 may participate in the running events and Javelin throw. Students 6-8 may participate in the running, throwing and jumping events.
St. Ann (Emmaus)
Take Lehigh St. towards Emmaus. Stay on Lehigh St. (which turns into State Ave. and then into Main St., and then into Chestnut St.) straight through the "triangle" in downtown Emmaus. Approximately three or four blocks further, turn left at the light onto 6th St. (There is a Turkey Hill Mini Market at the intersection.) Go up the hill 1/2 mile and St. Ann is on your left.
St. Elizabeth
From 15th St., go east on Route 22 past 7th St. approximately 1/8 mile, take Fullerton Ave. exit and turn right. Go 1 block and turn right again. St. Elizabeth is on your right.
Hanlon Center
Take Route 309S/78E towards Quakertown. From the Lehigh St. Exit, continue on 309/78 for 2.8 miles over South Mountain and at the split of 309 and 78, make a right onto Route 309 (Exit 60). In about ½ mile, take a right onto the exit for Bethlehem/Saucon Valley Rd. At the light at the end of the exit, make a left toward Saucon Valley Rd. E. crossing straight through the light at Route 309. Continue straight. for about 1.2 miles to the light at E. Saucon Valley Rd. ; continue straight (do not turn on to Saucon Valley Rd.) In approximately 1 mile there is an intersection for Old Bethlehem Pike (No traffic light), make a left and the Hanlon center is on the right.
St. Joe (Orefield)
Take Route 309 North from Route 22. Continue North on 309 past Walbert Ave. (light at top of hill) to next light (just a few hundred yards more; gas station on right) and make a left onto Chapmans Road. Go past 84 Lumber approximately 1 mile to stop sign. Continue straight through the intersection for approximately 1/8 mile and make a right turn onto Applewood Drive. The St. Joe facility is on the left.
St. Mike Limeport (aka St. Joe Limeport) Note that St. Mike Limeport and Hanlon are two separate facilities.
Take Route 309S/78E towards Quakertown. From the Lehigh St. Exit, continue on 309/78 for 2.8 miles over South Mountain and at the split of 309 and 78, make a right onto Route 309 (Exit 60). In about ½ mile, take a right onto the exit for Bethlehem/Saucon Valley Rd. At the light at the end of the exit, make a right. You will pass through a 4 way stop at Lanark Rd. (.2 mi) and then in another .4 mile you will come to a T . Make a left toward Limeport passing by Wedgewood Golf Course. In another 1.2 miles you will come to a stop sign (Chestnut Hill Rd.) Proceed straight for another 1.2 miles and make a left at the sign for St. Josephs Church (Note that the sign is on the right and the left turn must be made immediately so slow down as you approach the sign)
St. Paul
From Center City Allentown, take the 8th St. Bridge toward South Allentown. At the end of the bridge,go through the lights at the Lehigh St. and St. John St. intersections. Go just past the Jefferson Elementary school to the stop sign and make a left onto Wyoming St. Go straight until you come to a "T". Make a right turn onto S. 5th St. and crossover the concrete overpass (use the left lane). Go straight through the South 4th St. intersection (becomes Susquehanna St.) and go up the hill three blocks. St. Paul is on the left.
Rockne
Rockne Hall is located below Central Catholic High School at 4th and Chew St.
St. Thomas
From Allentown, take Cedar Crest Boulevard south past Hamilton St. intersection. (or go west on Hamilton St. and turn left onto Cedar Crest Boulevard. Approximately 1/4 to 1/3 mile south on Cedar Crest past the Hamilton St. intersection, take a left onto Lindberg Avenue. (Note that as you turn left there is a 'hard 'left and a 'soft' left. Take the soft left which is Lindberg Avenue). Go to stop sign and make a left onto Flexer Avenue. The St. Thomas facility is on your left approximately 1/8 of a mile.
OLH (Our Lady of Hungary)
From Route 22, take 7th St. (MacArthur Rd./Route 145) North past the Lehigh Valley Mall. In approximately 5 miles, make a right turn at the light at the top of the hill onto Route 329 East toward Northampton. (Or approximately ¼ mile earlier, you can 'cut the corner' by taking a right on to Forniciari Drive). Go down the hill toward Northampton and cross over the Lehigh river on a steel bridge. Immediately at the end of the bridge make a right hand turn on to Canal St. Follow Canal St. along the river through 4 stop signs. At the last stop sign (14th St.) there will be a ball field and playground on the right hand side. The road will bend slightly to the left and approximately 200 yards past the stop sign, Canal will intersect with Stewart St. This is approximately one mile from the steel bridge. OLH is on your left.
St. Francis (Allentown)
St. Francis is located at the intersection of 11th and Washington St. Washington St. is one block north of Tilghman St. The gym is located underneath the church (not the school) and the gym entrance is on 11th St. in the middle of the building.
Cathedral (Allentown)
The Cathedral gym is located on 18th St. between Turner and Chew Streets.