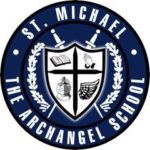 SAINT MICHAEL THE ARCHANGEL SCHOOL
FRIDAY SEPTEMBER 30, 2022
We are so excited for this new school year. The Walk-A-Thon is coming up soon – September 30th! Come out and support the school.
We are also collecting new and gently used shoes on that day for those in need (See printable flyer below.)
Thank you for all your support.
Visit us at https://e.givesmart.com/events/snJ/
#takeuptheshieldoffaith